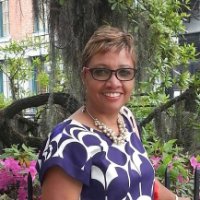 By Vera Woods, Academic Coordinator
Horizons Atlanta at Holy Innocents' Episcopal School
I've had the pleasure of being a Horizons staff member for more than 13 years at Horizons Atlanta at Holy Innocents' Episcopal School, where I now serve as the Program Coordinator. I've been an educator for more than 35 years, and I recently retired from the Fulton County Schools system after teaching Kindergarten at High Point Elementary for 29 years.
My Horizons journey began with me teaching computer literacy and photography three days a week when the program was in its infancy. I was so inspired by the mission of Horizons and the educators who were building the inaugural program at Holy Innocents'. In the beginning, I worked three days a week and would tote in borrowed laptops and cameras for the students to use. As the program grew, I worked directly with teachers on instruction and administered reading assessments. Currently as program coordinator, I work in partnership with our Site Director and Parent Liaison, to build strong relationships with parents, students, Horizons educators and the surrounding community. Our site now serves more than 120 students from neighboring schools!
Every child chosen for the Horizons program is given the skills and confidence to believe that failure is not an option. I'm so blessed to have been a part of the Horizons family at Holy Innocents' for so many years. We are a family that cultivates and grows each of our students socially, emotionally and academically every summer and throughout the year.
One of the most endearing things about our "Global Academy" is seeing our students take action by giving of themselves through community outreach. Each class is responsible for a citizenship project connecting to their grade level theme either locally or globally. The class projects have to focus on at least one of the following areas: Awareness, Advocacy or Direct Action. Last summer, the middle school students organized a car wash and donated proceeds to the Malala Fund to help girls around the world go to school and exercise their right to an education. Rising second grade students established a relationship with residents a nearby nursing home facility and visited them weekly. At the end of the summer session, the students and seniors exchanged handmade gifts. The whole program, including our parents, raised $500 through the combined efforts of a penny drive, lemonade stand, and snack sales, and donated it to the orphanage Home of Home in N'zerekore, Guinea. Students learned about the orphanage and organization from its founder, Holy Innocents' alum and former child refugee, Sam Johnson, who spoke to our students during the program.
I am proud to be a part of Horizons Atlanta at Holy Innocents' Episcopal School because we are empowering students to make a difference and become leaders in their respective schools, community, and the world in which they live.